A light salad with a hearty twist!
With summer right around the corner, we often start turning to lighter and simple recipes. Salads are tops on the menu.
5 Benefits of Eating Salad for Dinner:
Helps you meet your daily fruit and vegetable intake.
Lightens up your dinner meal, so you have plenty of time to burn it of before bed.
Are full of gut supporting fiber.
Provide protein and healthy carbs, if they are the hearty kind.
Are full of healthy fats to help you absorb anti-oxidant rich vitamins.
This recipe is full of the sweet and spicy ingredients that Thai sauces often provide without the added refined sugars.
This recipe is also an excellent source of protein (23 grams per serving) and contains 324% of your daily recommended amount of Vitamin A and 110% of your daily recommended amount for Vitamin C.
It is rich in fiber, iron, folate and potassium.
FUN FACT: Tempeh is a fermented soy product that originated in Indonesia.  Today food makers are starting to also make it with chickpeas, lentils or other beans for those that don't like a to eat a lot of soy.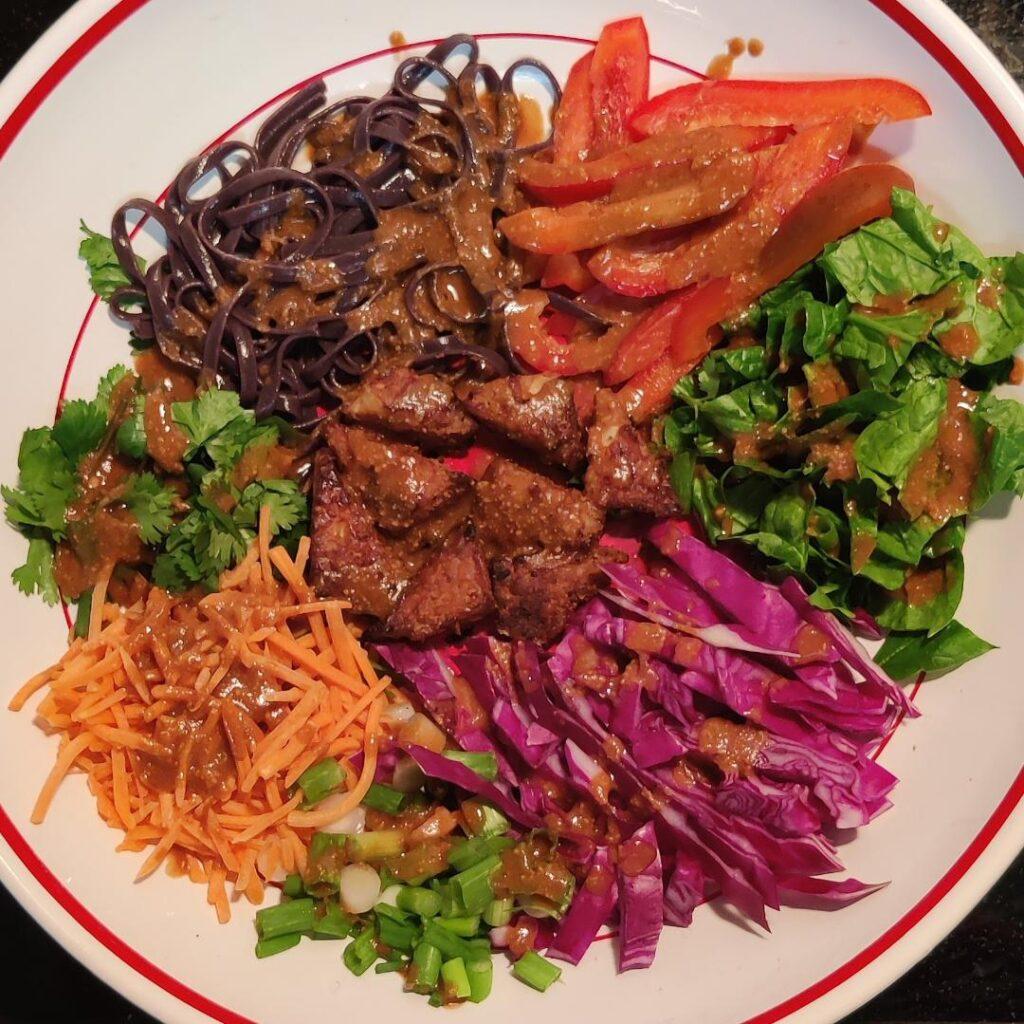 Serves: 4
Day 1: Marinate the tempeh
Ingredients for tempeh marinate
8 ounces tempeh
¼ teaspoon red pepper flakes
1 ½ tablespoon unrefined sesame oil
2 tablespoons creamy peanut butter
2 tablespoons low sodium coconut aminos
2 tablespoons lime juice
3 tablespoons real maple syrup
Directions:
Remove tempeh from package.
Add it to a skillet with 1 inch of water. Bring it to a boil over medium heat. Steam for 10-12 minutes (flipping ½ way through)
Pat dry. Then cut the tempeh in ½ and cut each ½ into small triangles. This process will remove the sourness of the tempeh.
While tempeh is cooking, add the red pepper flakes, sesame oil, peanut butter, lime juice and maple syrup to a small bowl. Whisk together until mixture is thin.
Add the tempeh and mix again until tempeh is well-coated.
Cover the bowl and place in the refrigerator overnight.
For dinner the next evening, preheat an oven to 375°. Line a baking sheet with parchment paper. Add the tempeh and bake for 20-30 minutes. Tempeh should be a deep golden brown when ready.
Add it to the Hearty Tempeh Thai Salad recipe below.
Day 2: Make the Salad
Hearty Tempeh Thai Salad
Ingredients for the salad
6 ounces black rice pad Thai noodles.
2 medium carrots, shredded
2 stalks scallions (finely chopped)
¼ cup chopped cilantro
2 ½ tablespoons chopped mint
1 cup loosely chopped spinach (chopped)
1 cup sliced red or purple cabbage (sliced thin)
1 medium red bell pepper (thinly sliced)
Marinated peanut tempeh from above
Ingredients for the dressing
1/3rd cup creamy peanut butter
3 tablespoons low-sodium coconut aminos
2 tablespoons real maple syrup
1 teaspoon chili garlic sauce
3 tablespoons lime juice
Approximately ¼ cup water – to thin sauce to desired consistency
Directions:
Cook noodles according to package directions.
While the noodles and tempeh are cooking, assemble the carrots, scallions, cilantro, mint, spinach, cabbage and red bell pepper in a large serving bowl.
Make the dressing by adding the peanut butter, coconut aminos, maple syrup, chili sauce and lime juice to a small bowl. Whisk together with a whisker. Add water a little at a time to thin it and achieved your desired consistency.
Take some of the salad ingredients and noodles form the big bowl and mix in a serving size bowl. Top with tempeh and some sauce and enjoy!
.