Spicy, Zesty and Sweet Barbecue Sauce
Who says you can't be vegan and enjoy a good barbecue!
If you haven't noticed already, every region of the country enjoys their barbecue sauce recipe just a little different. Kansas City likes theirs sweet, thick and smokey. Memphis likes a very tomatoey gravy-like sauce that is sweet and vinegary. In Texas, their barbecue sauce is thinner and less sweet with tomato, spices, celery, onions and garlic. And in North Carolina, their recipe has NO tomatoes at all! It's made with vinegar, cayenne, black pepper, crushed red pepper and hot sauce.
A typical barbecue sauce you buy at the store is loaded with sugar! In every 2 tablespoons of the sauce, there is an average of 1 ½ tablespoons of refined white sugar in it.
This barbecue sauce recipe contains no refined sugar, is low in calories, contains Vitamin A and tiny bit of Vitamin C.
BBQ Sauce Bowl Recipe
Serves: 4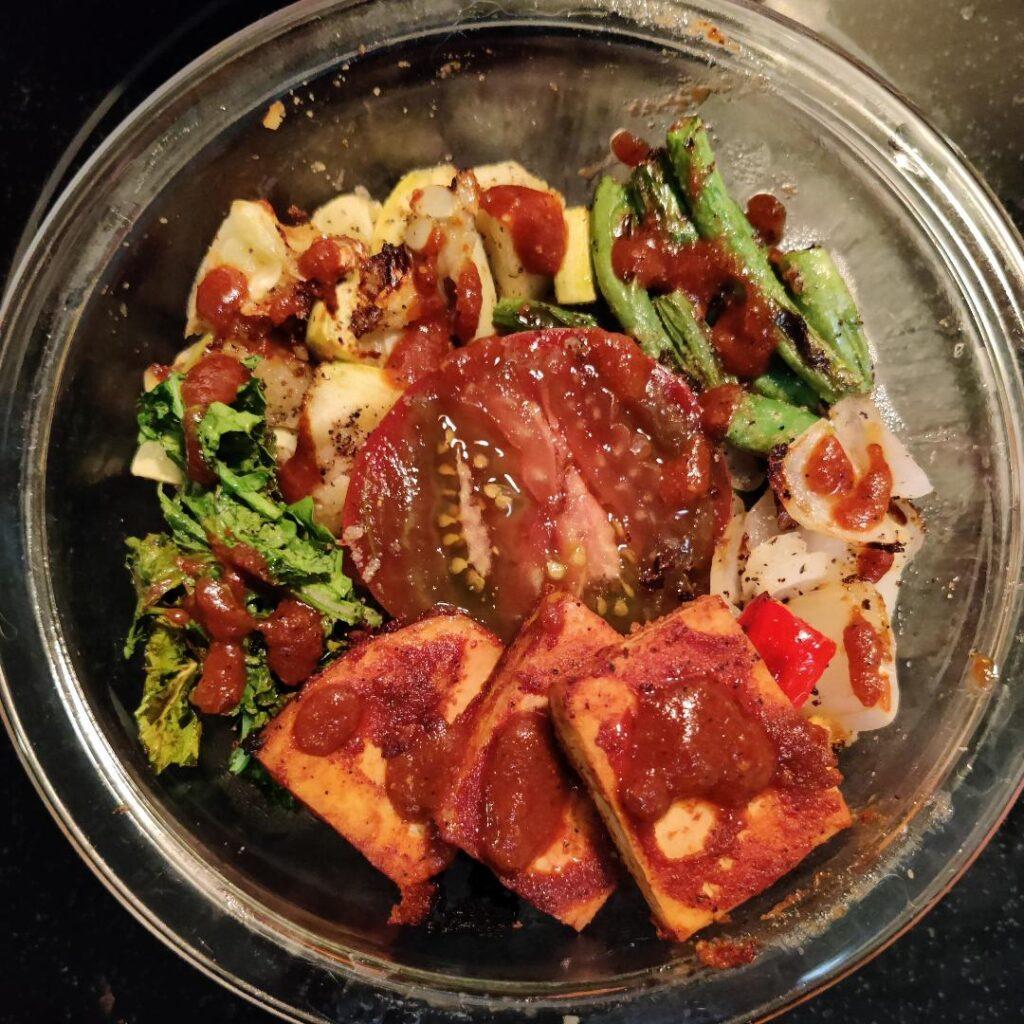 Ingredients and Prep for the Barbecue Sauce:
½ cup organic ketchup – use no-sugar added ketchup if you prefer.
1 1/2 tablespoons apple cider vinegar
1 tablespoon champagne vinegar
1 ½ tablespoons pure maple syrup
1 tablespoon vegan worcestershire sauce
1 tablespoon prepared brown mustard
½ teaspoon black pepper
½ teaspoons smoked paprika
½ teaspoon granulated onion
½ teaspoon granulated garlic
½ teaspoon chili powder
1/3 cup water
Directions:
Place all the ingredients in a small saucepan and whisk together.
Bring sauce to a boil and then reduce heat to simmer. Simmer for 15-20 minutes or until sauce is thick.
Ingredients and Prep for the Tofu
1 10-14-ounce block of extra firm tofu.
Splash of olive oil.
1 head of broccoli – cut into florets
1 clove of garlic, minced
1/2 of zucchini squash – cut into circles
1/2 of a gourmet gold (bright yellow color) zucchini – cut into circles
1/2 of a medium onion, diced
Spices: sprinkle of salt, pepper, granulated garlic and onion.
1 cup cooked short grain brown rice
BBQ sauce from above.
Directions:
1.Cook rice in a rice cooker according to directions. Keep warm once cooked until rice is ready to serve.
2.Press the tofu using a tofu press for 20-30 minutes.
3.Once tofu is pressed, cube the tofu or cut it into triangles.
4.Place tofu in medium sized bag or container and then add 1/2 of the prepared barbecue sauce. Close bag/container and shake until all tofu is well coated. Time permitting: Marinate tofu for 1-2 hours.
5.When ready to bake, pre-heat oven to 425̊ F.
6.Line a medium sized baking sheet with parchment paper. Spread the tofu in a single layer on the tray. Bake for 20-30 minutes.
7.Add a splash of oil to a large skillet. Then add all the vegetables to the pan. Sprinkle on spices.
8.Heat skillet on medium low temperature. Sauté vegetables for 20 minutes (flipping 1/2 way through).
9.Assemble your bowl.

Place 1/2 cup rice in a bowl.
Top with cooked vegetables and barbecued tofu.
Drizzle additional barbecue sauce over the bowl. Enjoy!
Another option is to serve barbecue sauce mixed with soy free vegan mayo over a veggie burger in a bun. Yum!