These grilled sweet potato steaks are brushed with a chili-lime marinade and become mouthwateringly meaty after being lightly charred on a grill pan to infuse the tasty tubers with a smoky profile. The Southwestern flavors are further enhanced with a grilled corn salsa featuring spicy jalapeño pepper, tangy-sweet onion, and creamy avocado. Basically, anything that would taste good as a taco topping can be piled onto these sweet potato steaks. Perfect for a plant-based cookout, this grill-tastic recipe is rounded out with a few sprigs of fresh cilantro and an optional drizzle of hot sauce to kick up the heat. Happy feasting! Recipe from Forks Over Knives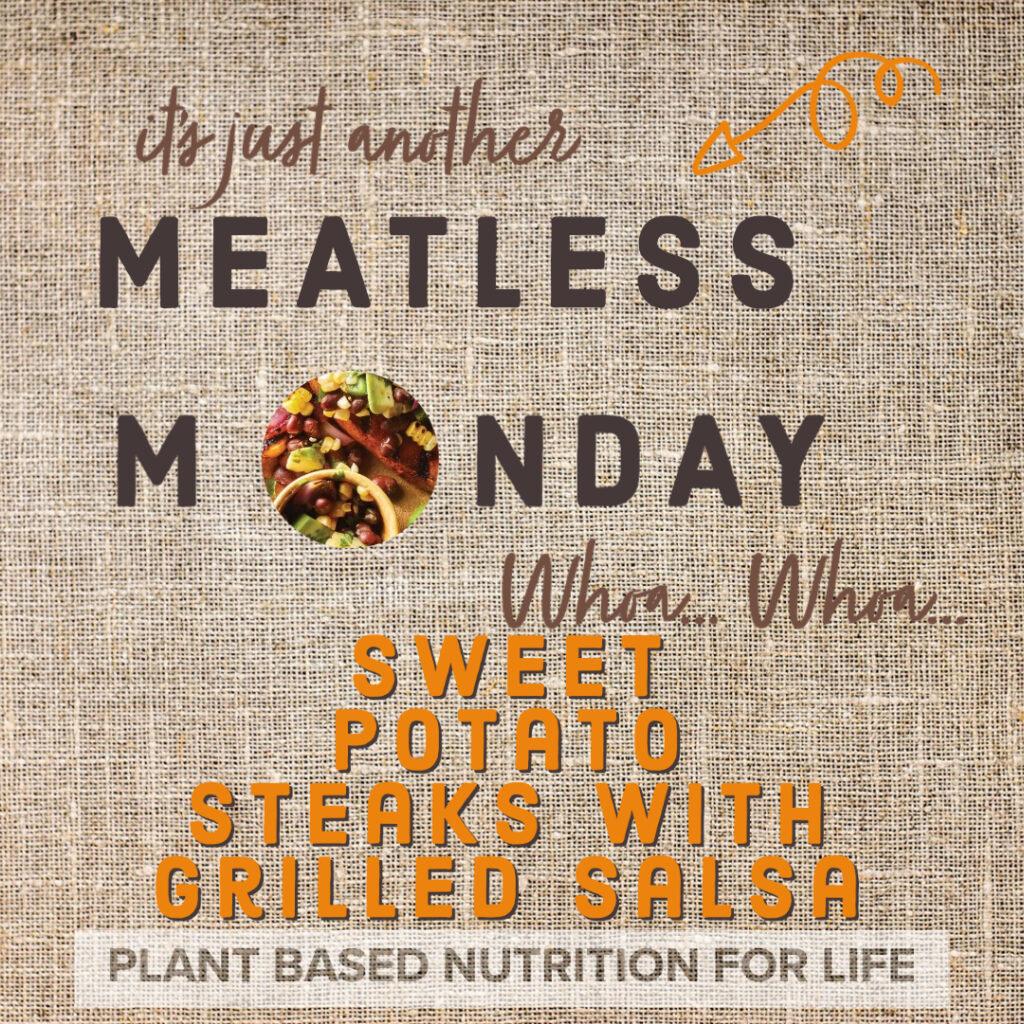 INGREDIENTS
1 ear fresh corn, husk and silks removed
½ medium onion, thickly sliced
1 fresh jalapeño chile, halved and seeded
3 tablespoons lime juice
1 teaspoon chili powder
½ teaspoon garlic powder
2 8-oz. sweet potatoes, cut into ½-inch planks
½ of a 15-oz. can no-salt-added black beans, rinsed and drained (¾ cup)
½ of an avocado, peeled and chopped
¼ cup chopped fresh cilantro
Sea salt, to taste
Freshly ground black pepper, to taste
Cholula hot pepper sauce (optional)
INSTRUCTIONS
Preheat a grill pan over high. Add corn, onion, and jalapeño. Grill 4 to 6 minutes or until lightly browned, turning occasionally. Drizzle with 1 to 2 teaspoons of water if vegetables are sticking. Transfer vegetables to a cutting board; let cool.
Reduce heat to medium. In a bowl stir together 1 tablespoon of the lime juice, the chili powder, and garlic powder. Add sweet potatoes to grill pan. Lightly brush juice mixture over sweet potatoes. Grill 15 to 20 minutes or until tender, brushing with the remaining juice mixture. While cooking, add 1 tablespoon water at a time to the grill pan and cover with foil to help steam the sweet potatoes, adding more as it cooks off if necessary.
Meanwhile, for salsa, cut corn off cob and place in a medium bowl. Chop onion and jalapeño; add to corn. Add black beans, avocado, cilantro, and the remaining 2 tablespoons lime juice. Mix well; season with salt and black pepper.
Top sweet potato planks with salsa. Drizzle with Cholula (if using).