The Whole Enchilada
This month we celebrate our Hispanic friends during Hispanic Heritage Month. Thank you you @normasolarte for this important reminder!!
About National Hispanic Heritage Month
"Each year, Americans observe National Hispanic Heritage Month from September 15 to October 15, by celebrating the histories, cultures and contributions of American citizens whose ancestors came from Spain, Mexico, the Caribbean and Central and South America." Source. https://www.census.gov/newsroom/stories/hispanic-heritage-month.html
The Aztecs were thought to be the first ones to develop the enchilada's we know of today. These early dishes were praised by nobility, but also enjoyed by the rest of the country. The word Enchiladas means "seasoned with peppers or chilies." The sauce usually consists of chilies, tomatoes and spices. The green ones actually pack more heat than the red ones. Like a lot of Mexican cuisine, they are made by wrapping a tortilla around food. In the case of enchiladas it's a corn tortilla wrapped around a myriad of ingredients including; beans, corn, spinach, squash, onions, broccoli and a sprinkle of vegan Mexican style cheese.
The difference between an enchilada and a burrito is that enchiladas require baking as part of their preparation, and they are slimmer than burritos. In New Mexico because they often use blue corn tortillas and they are harder to roll, their enchiladas are stacked. They are layered with food in-between each layer which almost gives them a lasagna-like look and feel.
Enchiladas, especially those packed with meat and cheese are loaded with fat and calories, especially saturated fat. One enchilada may contain as much as 55% of the daily recommended amount of saturated fat and a bucket-load of salt.
This recipe is low in fat and salt and incredibly high in fiber, Vitamin A and Vitamin C.  It is also an excellent source of folate, calcium, iron and magnesium!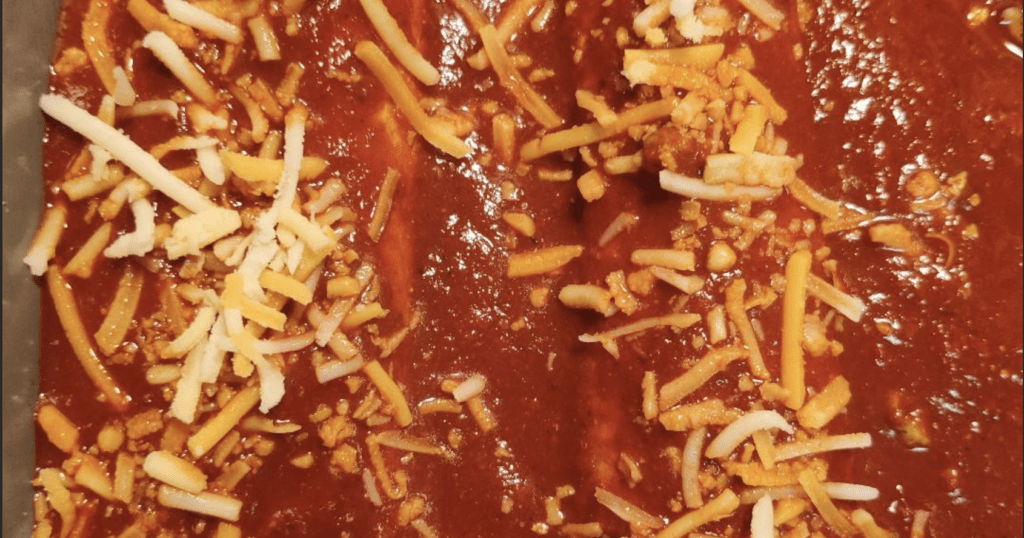 Authentic Enchilada Sauce – Spicier
Serves: 4
Ingredients:
3 cups water
2 ounces dried guajillo chilies, stemmed and seeded
1 ounce dried hatch or Anaheim chilies, stemmed and seeded
1 teaspoon ground cinnamon
2 tablespoons olive oil
¼ cup chopped yellow onion
1 medium tomato, deseeded and chopped
1 large garlic clove, minced
1 pinch of unrefined sea salt
½ teaspoon oregano
½ teaspoon paprika
½ teaspoon ground cumin
Directions:
Add water, chile peppers and cinnamon to a large saucepan and bring to a boil. Reduce heat to low, cover and simmer for 30 minutes or until chile peppers are tender.
Drain the chile peppers in a colander held over a bowl in order to preserve the cooking liquid.
Sprinkle a medium sauté pan with olive oil and warm on medium heat. Reduce to low and add the onions. Cook until softened (about 5 minutes).
Add the tomato, garlic and spices to the mixture and continue cooking over low heat for about 5 minutes longer.
Transfer the mixture to a blender and add the peppers and most of the water. Puree until smooth. If desired, add the remaining water and/or additional water along the way to thin the mixture.
Add more olive oil to the sauté pan and then the blended mixture. Cook on high heat until mixture comes to a simmer, then reduce to low and cook for 4-5 minutes. Remove from heat and add to favorite enchilada recipe.
Adopted from: Foodiecrush – https://www.foodiecrush.com/how-to-make-authentic-enchilada-sauce/
Veggie Bean Enchiladas
Serves: 4
Ingredients:
2 cups homemade enchilada sauce
2 tablespoons olive oil
1 small red onion
1 red bell pepper, finely chopped
1 stalk of broccoli, chopped into small pieces
1 teaspoon cumin
¼ teaspoon cinnamon
1 bunch of spinach
1 ½ cups cooked black beans or 1 can (15 ounces) black beans, drained
Sprinkle of Mexican style vegan cheese
1 pinch sea salt
4 whole corn tortillas
Cilantro for garnish
Directions:
Preheat oven to 400ºF. Lightly grease a shallow baking pan with olive oil.
In a large skillet, heat the olive oil over medium heat. Add the onions and a pinch of salt.
Reduce to medium low and cook onions until they are soft (around 7-10 minutes).
Add the broccoli and bell pepper and cook covered for 8-9 minutes until broccoli starts to soften.
Mix in the cumin and cinnamon and cook for about 30 seconds.
Add the spinach and cook until warm and no longer clumped together.
Transfer the contents to a medium size bowl. Add the beans, a sprinkle of cheese and about 2 tablespoons of the enchilada sauce. Season with salt and pepper.
Assemble the enchiladas: Add a thin layer of sauce to the bottom of the baking pan.
Heat tortilla over low heat in a sauté pan or warm in a tortilla warmer.
Place on a flat surface and add about ½ cup filling to the center of the tortilla. Fold right side over tightly, and then repeat for left side. Fold both ends. Place seam side down in your baking pan.
Repeat process with remaining tortillas.
Drizzle the remaining enchilada sauce over the tortillas and then sprinkle a small amount of cheese on top.
Bake for 20-30 minutes until tortilla looks golden.
Remove from oven and let sit for 10 minutes.
Sprinkle with cilantro and serve.
Enchiladas
Nutrition Facts
Amount Per Serving
% Daily Value*
Calories
309.1 kcal
15 %
Total Fat
6.5 g
10 %
Saturated Fat
2.1 g
10 %
Trans Fat
0 g


Cholesterol
0 mg
0 %
Sodium
239.3 mg
10 %
Total Carbohydrate
50.4 g
17 %
Dietary Fiber
11.2 g
45 %
Sugars
4.9 g


Protein
13.5 g
27 %
| | | | | |
| --- | --- | --- | --- | --- |
| Vitamin A | 221 % | • | Vitamin C | 176 % |
| Calcium | 21 % | • | Iron | 31 % |
* Percent Daily Values are based on a 2,000 calorie diet. Your daily values may be higher or lower depending on your calorie needs.