IT'S NATIONAL NUTRITION MONTH
And we couldn't be more excited to share all things nutrition this month!
To celebrate we're sharing some quick and easy recipes to help you meet your plant-only nutrition needs.
STARTING WITH PROTEIN POWER. Protein is the construction workers in our body. We need them to build – build our hair, our skin, our cells, our nails, teeth bones and yes, even our muscles.
Most people can meet their protein needs easily, even if they are whole food, plant-only eaters.
Seitan is one of our favorite sources of plant-based protein. It may contain up to 25 grams of protein in 3 1/2 ounces (a little more than 1/3rd of a cup). That's an amazing amount!
If you haven't heard of it already, seitan is a protein made by continuingly washing wheat grains until all that is left is the protein. When all is said and done, it's almost devoid of any carbohydrates and what's left is this rich, chewy, meaty-like texture protein.
Some people will use it as a plant-based substitution in recipes that normally use chicken or in Asian recipes where you would normally use beef such as beef-less broccoli or even a Mongolian beef-less bowl.
This recipe is HIGH in protein. There is almost 25 grams in one serving. It is low in calories, fat and saturated fat and an excellent source of fiber. It contains 127% of the amount of Vitamin C you need in a day. Plus, it is an excellent source of calcium and iron.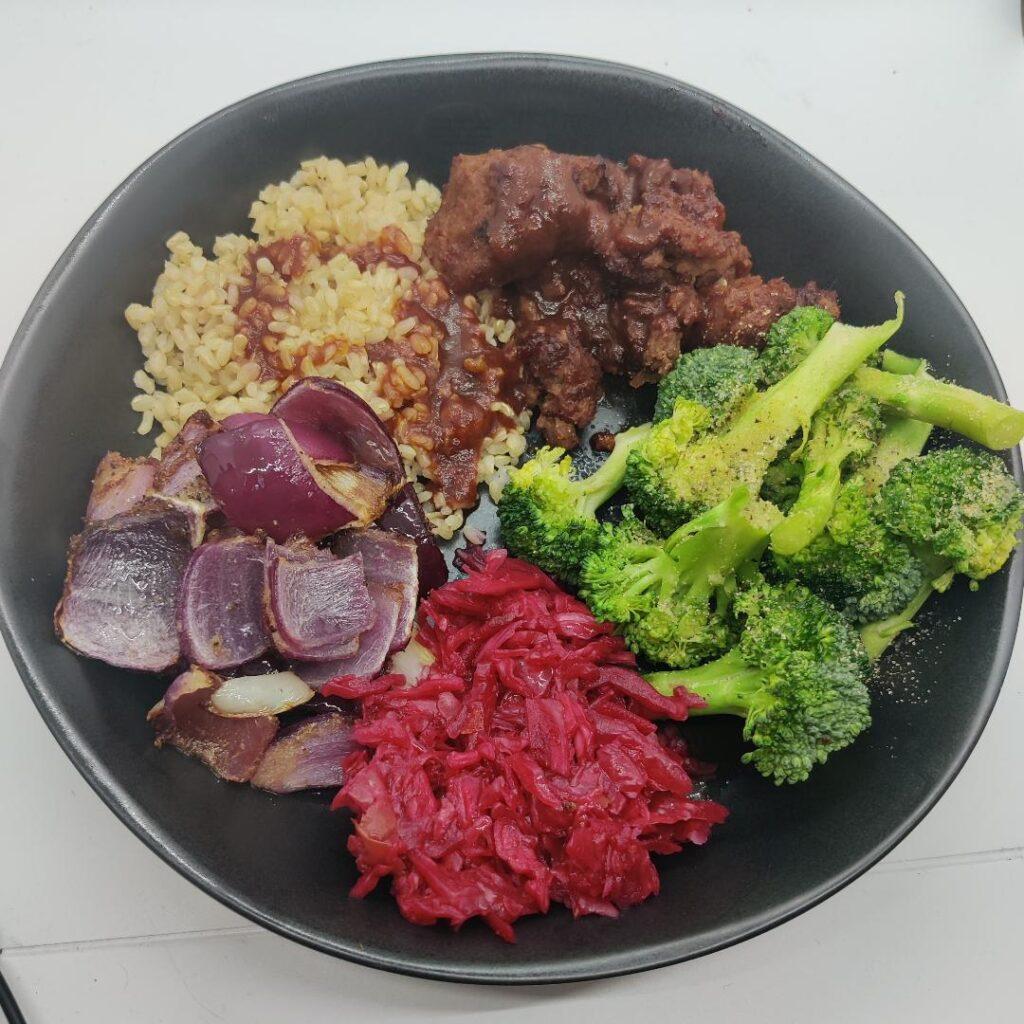 VEGAN BBQ SEITAN BOWL
We love this recipe because it has only a few simple, store-bought ingredients and is easy to make.
Ingredients:
1 package (8 ounces) Traditional Seitan – we used Upton Naturals because it is minimally processed.
2/3rds cup bottled vegan BBQ sauce – choose one low in sugar (5 grams or less per serving if possible)
1-8 ounce can pineapple chunks – in its own juice – no sugar added.
1 medium head of broccoli chopped – approximately 4 cups.
2 red onions – chopped into large chunks.
1 cup dry short grain brown rice.
Optional: Beet sauerkraut or sliced avocado to add color.
Directions:
1.A few hours before you make the recipe, add seitan to a medium size bowl. Top with BBQ sauce and mix thoroughly. Seitan should be thoroughly covered with BBQ sauce. Let sit until ready to make recipe.
2.At least 1/2 hour before making the recipe, add rice to the rice cooker. Add water to the 1 cup line and cook until fluffy and tender.
3.Preheat oven or toaster oven to 400°F.
4.Cover baking sheet with parchment paper and a light drizzle of olive oil. Spread oil across sheet with spatula or brush.
5.Add onion to a bowl. Coat with your favorite spices, pinch of salt and pepper and a drizzle of olive oil. Mix together.
6.Add BBQ seitan to sheet and then the onions. Keep them separate. Place in the oven and bake for 20 minutes (turning once).
7.While seitan is baking, steam the broccoli and drain the pineapple chunks.
8.When broccoli is steam, remove from the steamer, add your favorite spices to it and a drizzle of olive oil. Mix together.
9.Assemble the bowl. Add 1/2 cook of everything except the broccoli to a medium sized bowl. So, 1/2 cup cooked rice, 1/2 cup seitan, 1/2 cup onion, 1/2 cup pineapple and 1 cup of broccoli. Optionally add the sauerkraut and/or sliced avocado. Drizzle some extra BBQ sauce over the seitan and rice.
10.Serve immediately and enjoy!
BBQ Tofu Bowl with Seitan
Nutrition Facts
Amount Per Serving
% Daily Value*
Calories
380.4 kcal
19 %
Total Fat
2.4 g
4 %
Saturated Fat
0.1 g
1 %
Trans Fat
0 g


Cholesterol
0 mg
0 %
Sodium
566.5 mg
24 %
Total Carbohydrate
72.9 g
24 %
Dietary Fiber
7.8 g
31 %
Sugars
24.4 g


Protein
24.6 g
49 %
| | | | | |
| --- | --- | --- | --- | --- |
| Vitamin A | 2 % | • | Vitamin C | 127 % |
| Calcium | 13 % | • | Iron | 19 % |
* Percent Daily Values are based on a 2,000 calorie diet. Your daily values may be higher or lower depending on your calorie needs.