PREP-TIME: / READY IN: 1 HOUR, 5 MINUTES
SERVES 4
This creamy, golden vegan gravy recipe takes just minutes to put together. Sometimes my boys eat just a bowl of mashed potatoes and gravy for a snack. For dinner, we serve this dish with sautéed broccolini or green beans. Hot tip: The gravy can be made ahead and refrigerated. It will thicken slightly more as it chills. To reheat, place in a saucepan, add a small amount of water, whisk to combine, and then heat slowly, stirring occasionally.
From drmcdougall.com
By Heather McDougall Jan 5, 2015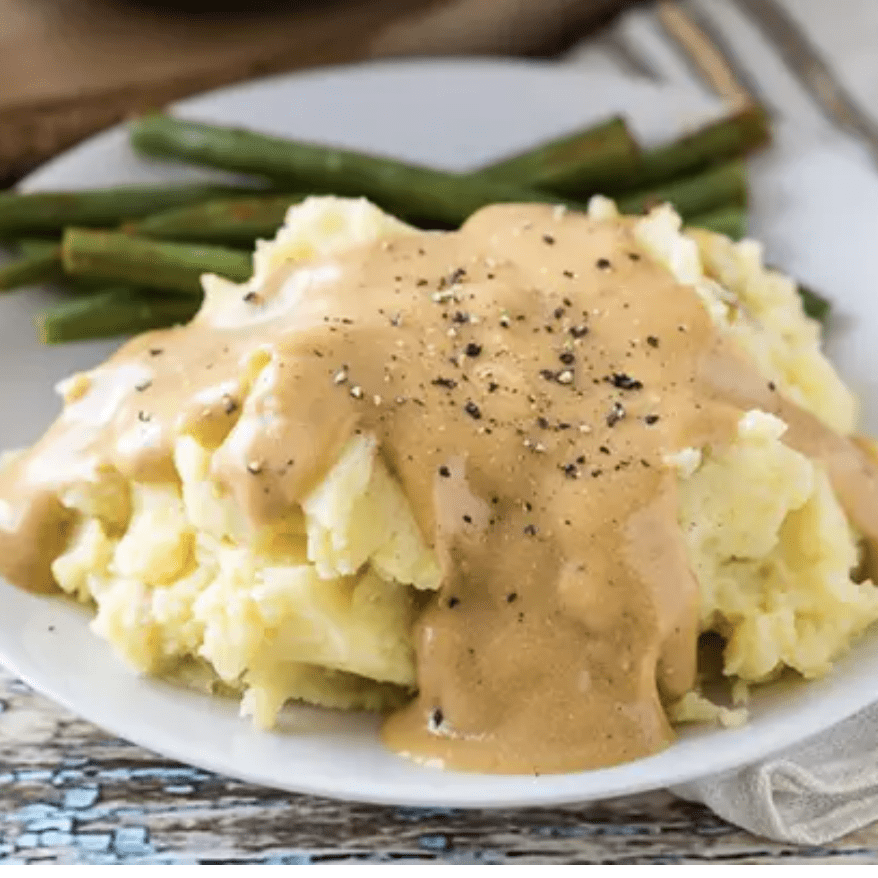 INGREDIENTS
FOR THE CREAMY GOLDEN GRAVY
2 cups vegetable broth
2 tablespoons low-sodium soy sauce
2 tablespoons tahini
¼ cup brown rice flour
freshly ground black pepper
FOR THE GARLIC MASHED POTATOES
4 large Yukon Gold potatoes
2 cloves garlic
¼ cup unsweetened, unflavored plant milk
Several twists of freshly ground white pepper
Dash of sea salt
INSTRUCTIONS
To make the gravy, place all ingredients except the pepper in a small saucepan. Stir well to mix. Cook over medium-low heat, stirring occasionally, until smooth and thick. Season with pepper to taste. Serve at once.
To make the Garlic Mashed Potatoes, peel the potatoes and chop into chunks. Place in a stainless pan with water to cover.
Add the whole garlic cloves. Bring to a boil, reduce heat, cover, and cook for 15 minutes, until potatoes are tender. Drain.
Mash in the pan, using electric beaters or a hand masher, adding the remaining ingredients as necessary to get a smooth consistency and a delicious flavor.