Thanksgiving Vegan Recipes
Made with Georgia Candy Roaster squash, this recipe will dazzle and amaze your friends and family this Thanksgiving! This slightly sweet, smooth and buttery taste squash can grow up to 15 pounds, essentially the size of your forearm. Nutritionally, it's an orange one so an excellent source of Vitamin A!  It also is rich in Vitamin C and Fiber. 
Can't find this type of squash? Choose acorn or another locally grown squash in your grocery store and follow the instructions for the stuffing below.
Serves: 6
Prep time: 30–45 minutes
Cook time: 45 minutes to an hour
Ingredients
1 whole Georgia Candy Roaster Squash sliced in half with the seeds removed
1 tablespoon melted plant-based butter
Salt and pepper
1 cup wild rice
2 cups vegetable broth made from whole vegetables
Extra virgin olive oil – cold-pressed
1 cup chopped celery
½ cup chopped onion
1 tablespoon plant-based butter
2 teaspoons Italian seasoning
1 teaspoon fresh sage
Granulated garlic and onion
½ cup fresh cranberries – you can sub these out for dried cranberries sweetened with fruit juice instead if you don't like the tart taste of cranberries.
2 tablespoons maple syrup
¼ cup chopped pecans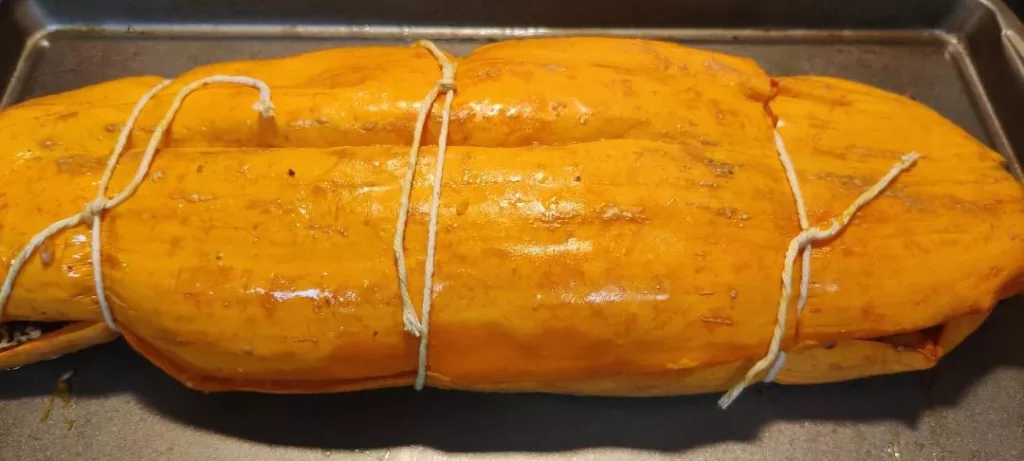 Directions
Preheat oven to 375°.
Add wild rice, veggie broth, a pinch of salt and a splash of olive to a medium size pot. Bring to a boil and then simmer for 45 minutes.
Add parchment paper to a large baking sheet. Then lightly brush the cut side of each side of the squash with butter and then add a sprinkle of salt and pepper to them. Brush on some maple syrup if you like a sweeter taste. Then place cut side down on the baking sheet and bake for approximately 30 minutes or until squash is soft but still holding its shape.
If using fresh cranberries, add them to a small sauté pan with maple syrup. Cook on medium-low heat until cranberries pop and absorb the syrup or approximately 20 minutes.
Add butter to a large sauté pan and melt on medium low heat. Add celery and onion and cook for approximately 12 minutes or until celery is soft. Once cooked add Italian seasoning, sage, and a sprinkle of granulated garlic and onion. Remove from heat.
Add rice, cranberries and pecans to the celery and onion mixture and mix thoroughly.
Turn squash over and scoop out part of the inside in the middle. Add rice mixture to one of the halves. Place the other half on top. Tie with cooking twine to hold squash together.
Serve immediately on a serving plate. Have guests cut off a piece, REMOVE THE SKIN and enjoy!
For extra flavor, top with gravy or cinnamon and nutmeg.