Egg-Less Roll in a Bowl
A healthy spin on a Chinese classic!
Believe it or not, egg rolls even if they are not vegan often do not contain egg. It is called an egg roll because originally the veggies were covered in an omelet-style wrapping.
This new version is not only free of eggs, but it also is not deep fried like many traditional egg rolls. Deep frying often adds a ton of calories, uses unhealthy oils and is loaded with salt. This healthier version is low in calories (around 283 per serving) and is a great source of plant-based protein. Plus it is loaded with Vitamins A&C, calcium and iron!
Serves: 4
Ingredients
Sauce:
¼ cup coconut aminos
3 tablespoons sweet and sour sauce
1 tablespoon rice vinegar
1 teaspoon granulated garlic
For tofu mixture:
2 teaspoons sesame oil
1 yellow onion, sliced into thin slices
4 cloves garlic, minced
3 ½ teaspoons minced ginger (I use jarred minced ginger without added sugars)
One 12-ounce block of extra-firm tofu.
1 cup green cabbage, shredded
1 cup red cabbage, shredded
1 large carrot, peeled and grated
Toppings:
2 scallions, green part only, sliced
¼ cup raw peanuts
Drizzle of coconut aminos and sweet and sour sauce
Black sesame seeds
Optional: Cooked farro or other rice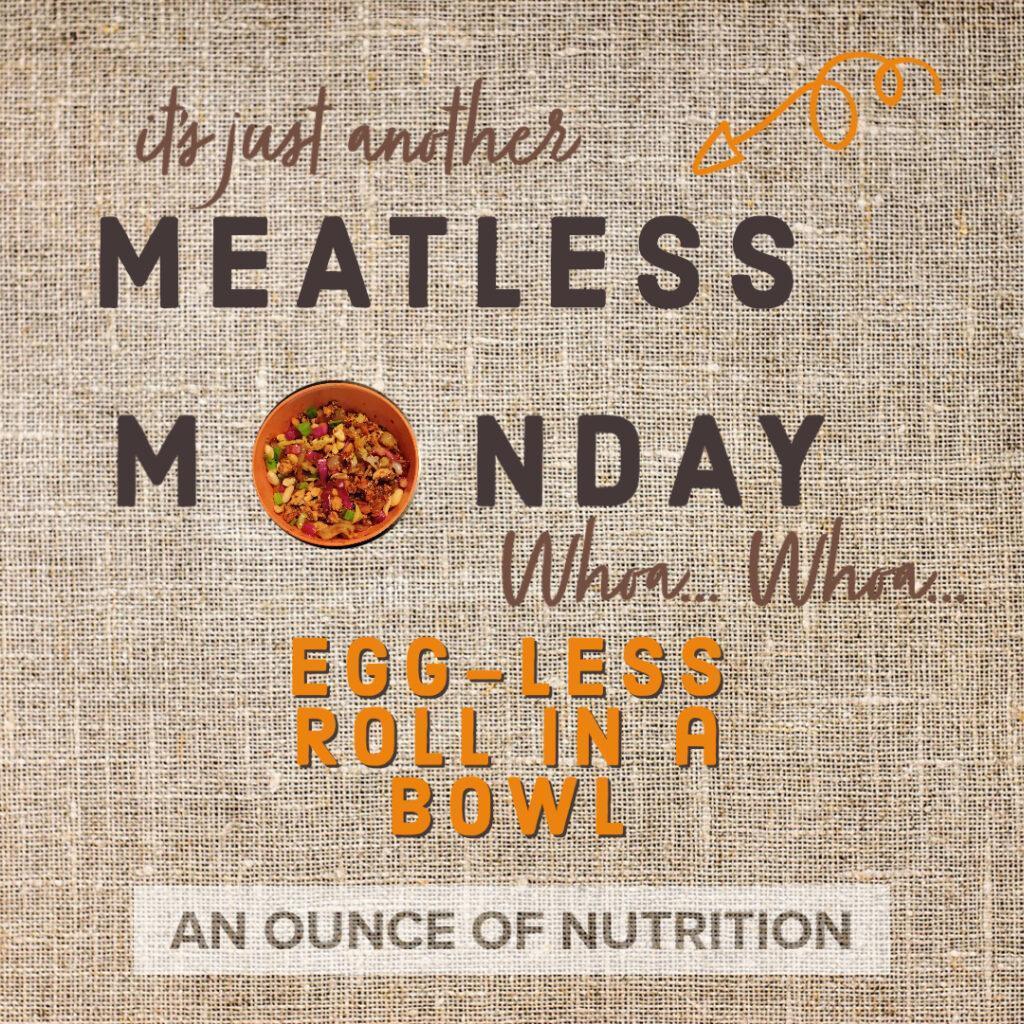 Directions:
1.Put tofu into a tofu press for 15-30 minutes to drain all of the liquid.
2.Prepare the sauce. Add all of the sauce ingredients into a small bowl and whisk to combine. Set aside.
3.In a large sauté pan, add 1 teaspoon of sesame oil and heat over medium heat. Add the onion, garlic and ginger to the pan and sauté for 5 minutes until the onions are translucent and begin to brown.
4.Crumble the tofu into the pan. Cook for 5 minutes until the tofu starts to brown. Pour in ½ of the sauce and stir to combine. Place contents of the pan into a medium-sized bowl and set aside.
5.Raise temperature to medium-high heat and add the remaining teaspoon of sesame oil to the pan. Add the cabbage and carrot and sauté for 5 minutes. Then add the tofu mixture back into the pan along with the remaining amount of sauce. Heat thoroughly.
6.Add to a bowl and top with the toppings. Enjoy!