Summer is watermelon season – yummy!
And July is National Watermelon month. It's a national celebration of the juicy fruit that is produced in 49 states and sold and consumed in all 50 states!
One of my favorite salads to make for watermelon month is a sweet, juicy watermelon salad. I know very few people that do not thoroughly enjoy watermelon. In fact, I've only met one my entire career.
"Water"melon gets its name because it is approximately 93% water. Nutritionally, it is an excellent source of Vitamin C and Vitamin A!  It also is a great source of potassium and magnesium.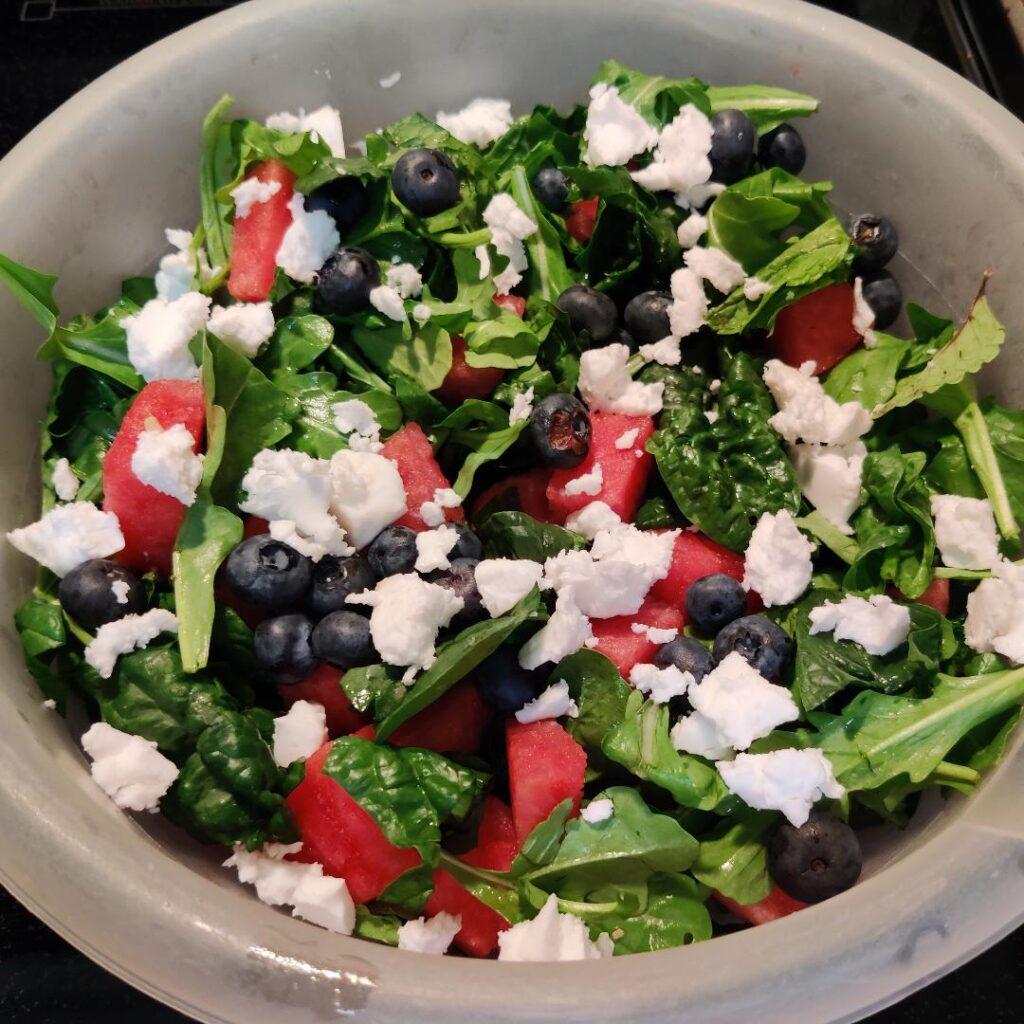 Watermelon Salad Recipe
Serves: 4
Ingredients for salad dressing
½ cup extra virgin olive oil
3 tablespoons lemon juice
1 clove garlic, minced
2 teaspoons real, unrefined maple syrup
½ teaspoon Dijon mustard
Pinch of salt and pepper
Sprinkle of granulated onion
Directions:
Place all of the ingredients in a small bowl. Whisk to combine.
Ingredients for the Salad
1 full bunch of spinach – rinsed thoroughly and chopped
¼ container of arugula (I used Organic Girl) – rinse thoroughly
1 .5 ounce container of mint – leaves removed
1 small seedless watermelon – chopped into chunks
½ package "Just like feta" Violife cheese
1 cup fresh blueberries
Directions:
Add the spinach, arugula and mint to a large bowl. Mix together.
Add the watermelon and blueberries to the salad and mix again.
Sprinkle the cheese on top.
Portion one serving into a bowl.
Top with salad dressing and serve.
Enjoy!
.