Grilled Corn with Sriracha Aioli
Perfect grilled corn with a savory, spicy sriracha aioli. The perfect summer side dish or snack. 10 ingredients, vegan, and gluten-free.
Author Minimalist Baker
5 from 17 votes
PREP TIME1 hour
COOK TIME15 minutes
TOTAL TIME1 hour 15 minutes
Servings (ears corn with aioli)
CourseSide, Snack
CuisineGluten-Free, Mexican-Inspired, Thai-Inspired, Vegan
Freezer FriendlyNo
Does it keep?2-3 Days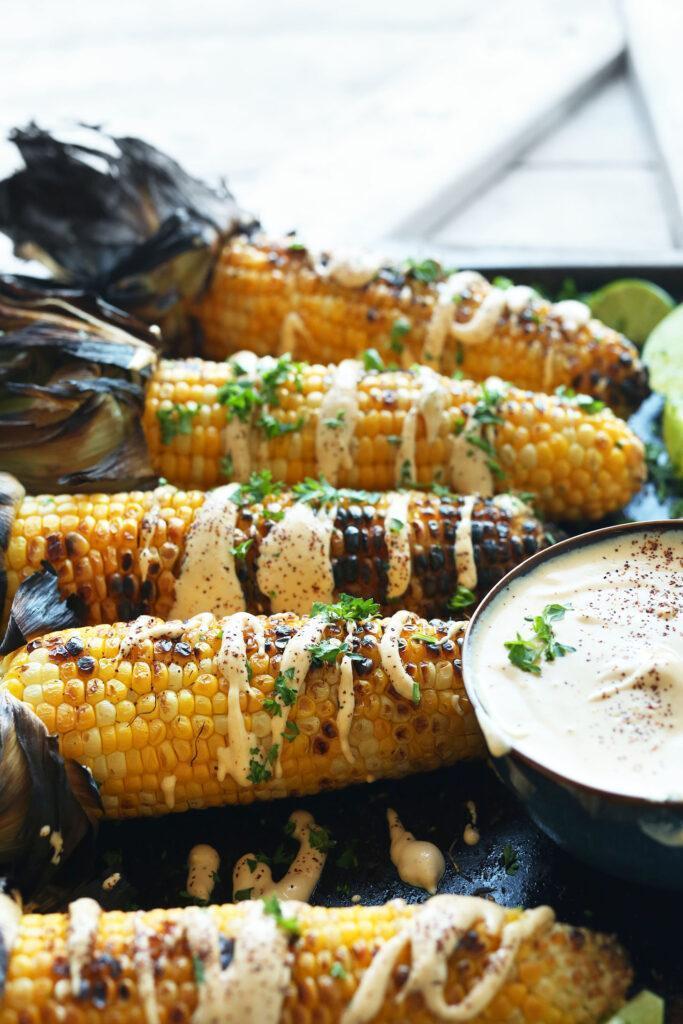 Ingredients
SRIRACHA AIOLI
3/4 cup raw cashews
5 cloves garlic (minced/smashed)
1/4 cup water
1-2 Tbsp olive oil
1 tsp maple syrup
1 Tbsp lime juice
Sea salt + black pepper (to taste)
1 tsp sriracha (or other hot sauce // plus more to taste)
1 pinch each chili powder, smoked paprika, and ground cumin
1/2 tsp nutritional yeast (optional)
CORN
8 large ears corn (unhusked)
FOR SERVING optional
Lime juice
Fresh chopped cilantro (or parsley)
Instructions
Place cashews in a bowl and cover with boiling hot water. Let set, uncovered, for 45 minutes – 1 hour (or until very soft). Then drain thoroughly and set aside.
In the meantime, prep corn by putting in a large bowl and covering with cool water for about 10 minutes to prevent it from burning too much on the grill. Then place on a baking sheet and set aside. Prep any other toppings at this time (cilantro, limes, chili powder, etc.).
Begin preheating grill once cashews are almost soaked. Then add soaked, drained cashews to the blender along with fresh garlic, water, olive oil (start with lesser end of range), maple syrup, lime juice, salt, pepper, sriracha, and spices. Nutritional yeast is optional.
Blend on high until creamy and smooth, scraping down sides as needed. Taste and adjust seasonings as needed, adding more water if too thick, salt for flavor balance, sriracha for heat, cumin for smokiness, garlic for zing, maple syrup for sweetness, or lime juice for acidity. Transfer to a serving dish and set aside.
To grill corn, place (unhusked) directly on the hot grill for about 7-8 minutes and close the lid. Rotate/flip at the halfway point to ensure even cooking. This begins gently cooking the corn before laying it directly on the grill.
Once the husk is browned, pull back the husk (optional to remove completely) and place back on the grill. Close the lid but watch closely, rotating until all sides of the corn are deep golden brown.
To serve, drizzle corn with aioli, lime juice (a must!), chili powder and sprinkle on fresh herbs. Best when fresh.
Video
Notes
*Grill method slightly adapted from Bobby Flay.
*Aioli adapted from my Herbed Portobello Burgers with Garlic Aioli (in our 31 Meals eCookbook).
*Nutrition information is a rough estimate for 1 ear of corn with 2 Tbsp aioli.
Nutrition (1 of 8 servings)
Serving: 1 ears with aioliCalories: 176Carbohydrates: 22 gProtein: 4.4 gFat: 9.8 gSaturated Fat: 1.8 gTrans Fat: 0 gCholesterol: 0 mgSodium: 37 mgFiber: 2.5 gSugar: 3.9 g