Credit goes to Forks Over Knives
PREP-TIME: 20 MINUTES / READY IN: 25 MINUTES
MAKES 10 CUPS
This irresistible recipe takes all the classic flavors of a traditional pasta salad and puts a refreshing, surprising spin on the classic dish to delight your taste buds. Rotini pasta is cooked with bite-sized chunks of cauliflower florets to add extra veggie goodness. Sweet peas and crunchy celery add delicious texture to the noodles; it all gets drizzled in a finger-licking-good sauce that's equal parts creamy, tangy, and cheesy. Enjoy the salad on its own or spoon into lettuce leaves to create delicious wraps that are perfect for summer cookouts or serving as an appetizer at a dinner party.
Tip: Soak cashews in enough very hot water to cover 15 minutes; drain and rinse.
Check out our full collection of flavorful vegan pasta salad recipes!
By Nancy Macklin, RDN, Jul 11, 2022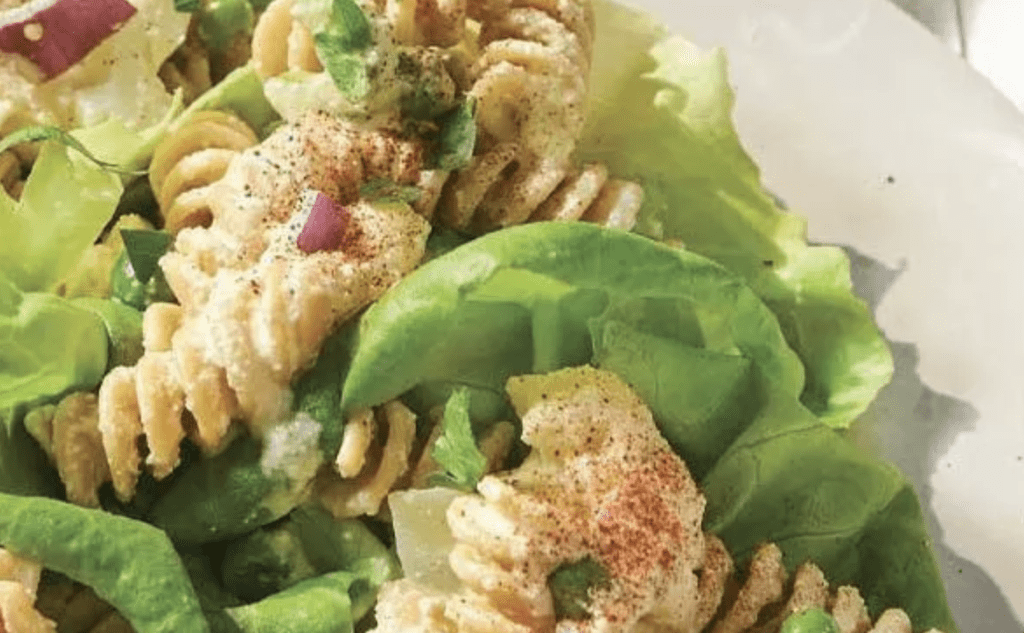 INGREDIENTS
10 oz. dry whole wheat rotini pasta
3 cups coarsely chopped fresh cauliflower
2 cups frozen peas
1 cup thinly sliced celery
½ cup chopped red onion
½ cup soaked raw cashews (see tip in intro)
2 tablespoon nutritional yeast
2 tablespoon lemon juice
1 tablespoon Dijon mustard
⅛ teaspoon cayenne pepper
¼ to ⅓ cup unsweetened, unflavored plant-based milk
¼ cup chopped fresh parsley
Sea salt, to taste
Freshly ground black pepper, to taste
12 large butterhead (Bibb or Boston) lettuce leaves
Ground paprika
INSTRUCTIONS
Cook pasta according to package directions, adding cauliflower the last 3 minutes of cooking. Stir in peas; drain. Rinse with cold water; drain well. In a large bowl combine pasta and vegetables, celery, and red onion.
In a small food processor combine the next five ingredients (through cayenne pepper). Cover and process until smooth, gradually adding plant milk until dressing is the consistency of a runny mayonnaise. Add dressing and parsley to pasta mixture; stir to coat well. Season with salt and black pepper.
Serve salad in lettuce leaves and sprinkle with paprika.