IT'S NATIONAL NUTRITION MONTH
And we couldn't be more excited to share all things nutrition this month!
To celebrate we're sharing some quick and easy recipes to help you meet your plant-only nutrition needs.
AND THEN THERE'S CARBS. Carbs get a bad rap, but if you choose the right kinds, they can actually be pretty healthy for us. In fact, they are the main source of energy for our bodies and our brains.
Eating whole carbs not only can provide you with a steady source of energy, but they also are an excellent source of fiber!
The best grains to choose are the ones that we call "intact" grains. These are the ones that contain the whole part of the grains including the bran, the germ and the endosperm. In other words, they have not been processed to remove any of these parts – they stay true to form. Intact grains include whole oats, barley, quinoa, millet, buckwheat and others.
But what about pasta? All pasta is processed to some extent, but the more minimally processed it is the more nutrients it still retains. The best kind of pasta is gently milled or stone ground, which means they grind the grains between two stones. The benefit of doing it this way is it keeps the nutrients intact.
Another process that is very helpful is to slow dry the pasta dough. White pasta (made in the U.S.) is generally dried at high temperatures which strips out many of the nutrition, while slow drying can help retain nutrients. The process of slow drying entails drying the pasta slowly at low temperatures, which could take anywhere from12 hours to 5 days to dry.
So today we're carbo-loading on some nutritious, vegan mac-n-cheese!
This recipe is low in saturated fats and is a good source of protein and fiber. It also is an excellent source of iron!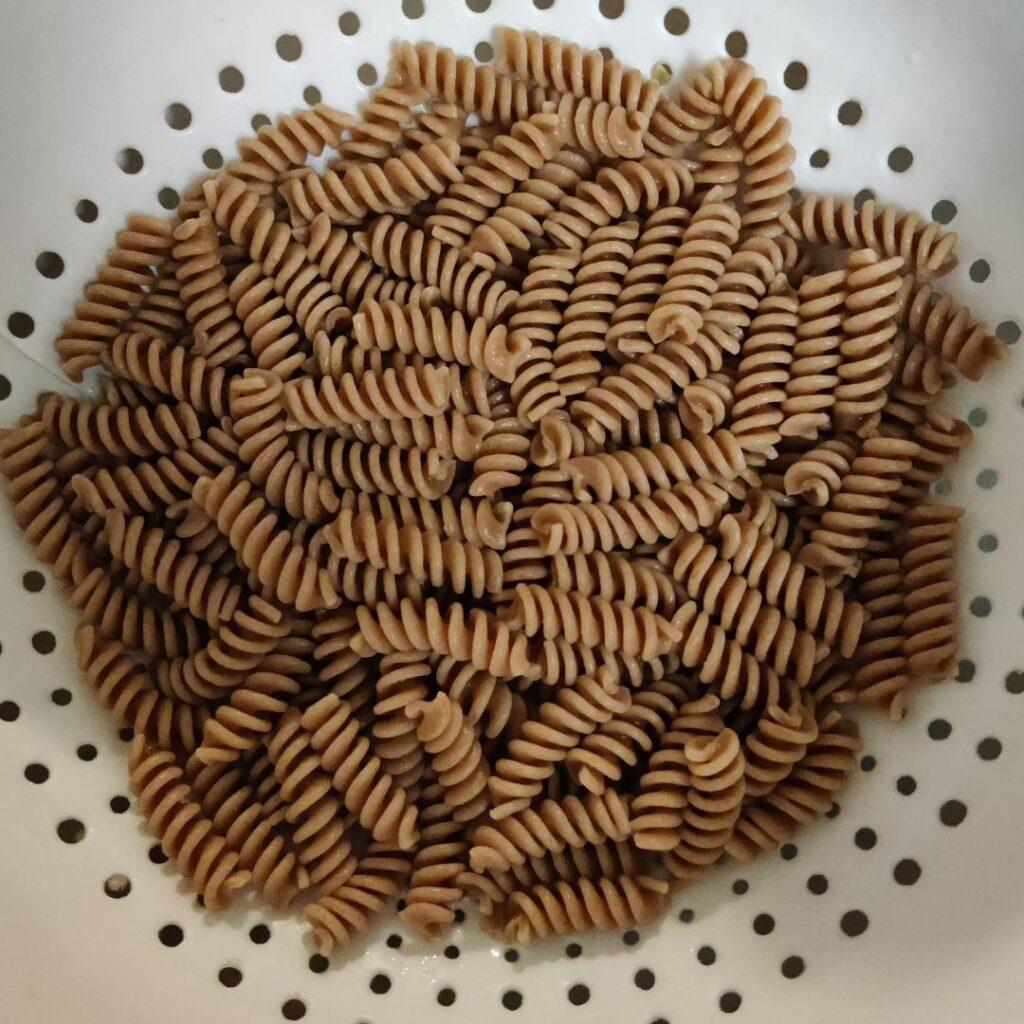 VEGAN MAC-N-CHEEZZZZ
We love this recipe because it is super creamy and could go head-to-head with any traditional mac and cheese recipe. Plus, it is super simple to make!
Serves: 8 Serving size: 1/2 cup cooked
Ingredients:
1 1/2 cups raw cashews
3 tablespoons lemon juice
1/3rd cup water
1 1/2 teaspoons sea salt – if you are watching salt intake just add a pinch of salt here.
1/4 cup Bragg nutritional yeast
1/2 teaspoon Chipotle chili powder
1/4 teaspoon granulated garlic
1/4 teaspoon turmeric
Pinch of cayenne pepper (optional)
1/2 teaspoon spicy brown mustard
4 cups dry whole wheat pasta – I used Jovial Einkorn wheat fusilli pasta but it is processed in a facility that processes eggs and milk, so you may want to use Sfoglini or Montebello whole wheat fusilli if this is of concern to you.
1 tablespoon plant-based butter (optional)
Directions:
1.Add raw cashews to a container and fill with water. Left sit at least 4 hours or overnight. Drain.
2.Bring a medium pot filled with water and a pinch of salt to a boil. Add pasta and cook according to directions.
3.While the pasta is cooking, combine the cashews, lemon juice, water, salt, nutritional yeast, chili powder, garlic, turmeric, optional cayenne and mustard in a high speed blender. Blend until smooth. If mixture is too thick, add more water until it blends smooth.
4.Once pasta is cooked, drain in a strainer and then place back in the pot. Add in the blended cheese sauce and optional plant-based butter. Mix well and then serve warm.
5.Serve with a fresh green salad topped with kidney beans or steamed broccoli. Top with optional hot sauce.
Recipe slightly adapted from: Vegan Mac and Cheese (Fan Favorite!) – Detoxinistra
Nutrition Facts
Amount Per Serving
% Daily Value*
Calories
325.4 kcal
16 %
Total Fat
13.1 g
20 %
Saturated Fat
2.5 g
12 %
Trans Fat
0 g


Cholesterol
0 mg
0 %
Sodium
465 mg
19 %
Total Carbohydrate
42.6 g
14 %
Dietary Fiber
3.1 g
12 %
Sugars
2.4 g


Protein
12.7 g
25 %
| | | | | |
| --- | --- | --- | --- | --- |
| Vitamin A | 0 % | • | Vitamin C | 4 % |
| Calcium | 3 % | • | Iron | 16% |
* Percent Daily Values are based on a 2,000 calorie diet. Your daily values may be higher or lower depending on your calorie needs.