IT's PUMPKIN SEASON! 🎃
Pumpkins are said to represent the warmth and coziness of the fall and that's absolutely true. The nostalgic transition from summer to winter may conjure up a desire for roasted pumpkin, pumpkin soup and other types of squashes. Something snuggly and warm!
1 cup of pumpkin provides 88% of our daily recommended amount of Vitamin A. This important nutrient helps strengthen our eyes and is important for our skin and hair. It's also a strong immune boosting nutrient! Pumpkin also is a great source of Vitamin C and riboflavin for our cells.
This recipe is an excellent source of iron (approx. 43% of our daily recommended amount), high in potassium and a rich source of Vitamin A and fiber.
Of course, this is higher in calories and fat/saturated fat, so definitely more of a treat and not an every day occurrence. Enjoy!
Did you know? Fall is called fall because the leaves "fall from the trees."
Serves: 6
Ingredients
1 can full fat coconut milk
2 cups of fresh baked pumpkin (about 1 ¼ pumpkin) or 1 can (15-ounce) pureed pumpkin (without added sugars or additives or preservatives).
1/3 cup maple syrup
1 tablespoon pumpkin pie spice
1 teaspoon vanilla extract
¾ cup of low sugar (4 grams or less per serving) or unsweetened sugar, chocolate chips.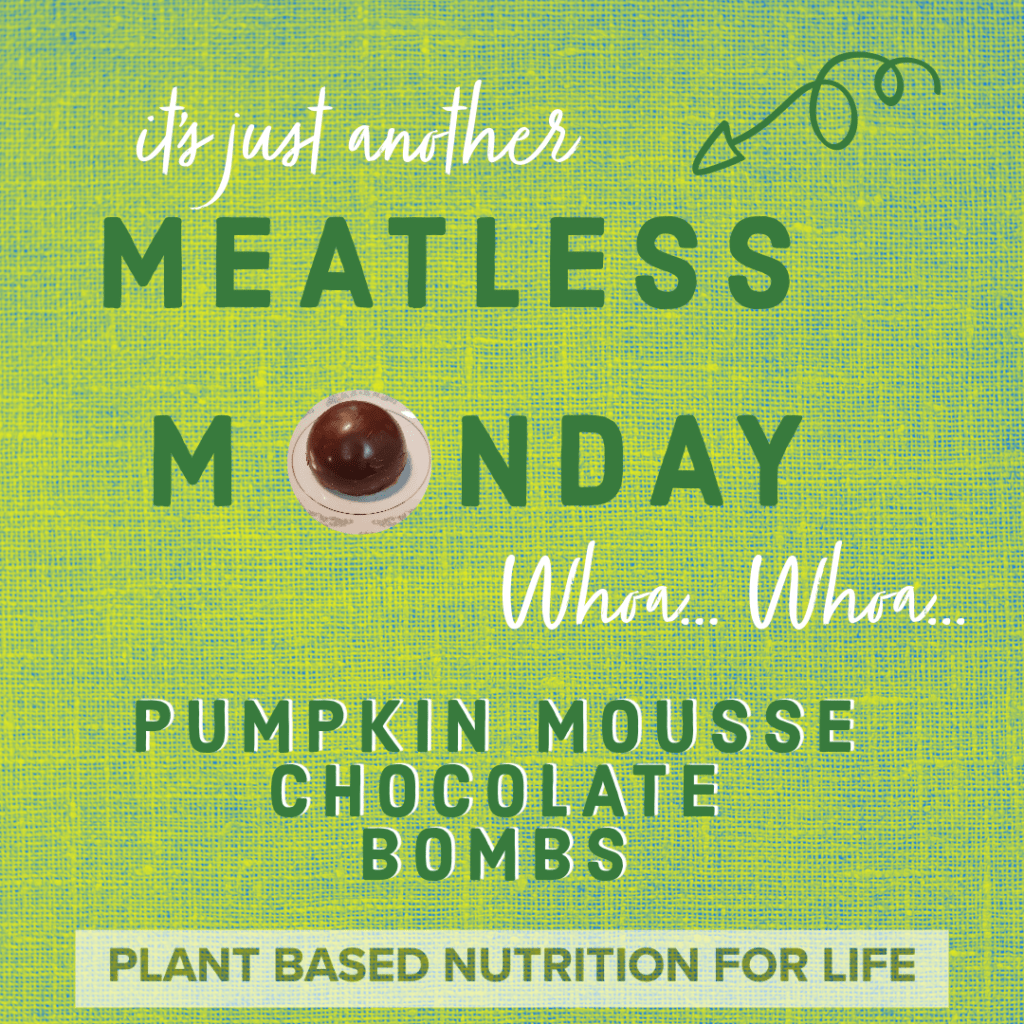 Directions
IMPORTANT: The night before preparing the recipe, place an unopened can of coconut milk in the refrigerator.
To prepare recipe:
Take the coconut can out of the refrigerator and open it. Scoop out the solid part of it and place in a large mixing bowl. Discard the liquid or use it for another recipe or drink.
Using a mixer, whip the coconut milk into a cream.
In another bowl, combine the pumpkin, syrup, pumpkin pie spice and vanilla and mix well.
Gently fold the coconut cream into the pumpkin mixture.
Pour the mixture into six 2 ½ inch chocolate molds and fill them up. Level off the top with a knife.
Place mold in the freezer and let set for at least 2 hours.
Melt ¾ cup of chocolate chips in a sauté pan over low heat. Brush the chocolate into six additional silicone molds (cover the entire mold with chocolate) and freeze for at least 20 minutes.
Once set, gently pop out the pumpkin mousse out of the mold and place on a dessert plate.
Gently pop out the chocolate half spheres and place them over the pumpkin mousse spheres.
Serve and enjoy!