Immune Boosting Curry
Going into the New Year with a strong immune system can really benefit you during cold and flu season. This recipe contains over 20 immune supporting nutrients including the immune boosting white ones!! For a full list of nutrients and details, refer to the chart below.
Servings: 4 – 6
Ingredients
1 tablespoon coconut oil
2 cloves of garlic, minced
2 teaspoons minced ginger
1 small onion, cut into chunks
½ stalk broccoli, cut into florets
1 medium bell pepper, cut into chunks
1 medium heirloom tomato, chopped
1 large carrot, sliced
4 yellow baby potatoes, quartered
1-2 tablespoons (depending on your spiciness preference) organic yellow curry paste. I used the Mekhala brand*
1 cup water
1 teaspoon maple syrup
Pinch of sea salt x2
One 14-ounce can of organic coconut milk
¾ of a 14-ounce block of extra firm organic tofu
Optional: Seed ranch thai green hot sauce, thai basil, handful of curry cashews.
* A good rule of thumb is to start with mild spiciness and then increase the amount slowly until you reach your desired spice level.
Preparation
1.Cook rice according to directions.
2.Add sunflower oil to a medium to large soup pot. Heat over medium heat.
3. Add garlic, ginger and onion. Sauté for 2 minutes, stirring frequently.
4. Add broccoli, bell pepper, tomato, carrots and baby potatoes to the pot. Sauté for another 2-3 minutes.
5.Add the curry paste and mix thoroughly. Saute for another 3 minutes, stirring frequently.
6.Add water, maple syrup and pinch of sea salt. Reduce heat to simmer and cook for 20 minutes or until vegetables are soft. To save time, you can cook this in an instapot.
7.While the vegetables are cooking, dice and saute the tofu in a medium sized pan with a pinch of salt for at least 10 minutes. Flip tofu once ½ way through.
8.Add coconut milk and tofu to vegetable mixture. Simmer for another 2-3 minutes.
9.Serve over ½ cup of wild rice, black rice or red rice.
10.Top with optional Thai basil, Thai green hot sauce or curry cashews. Enjoy!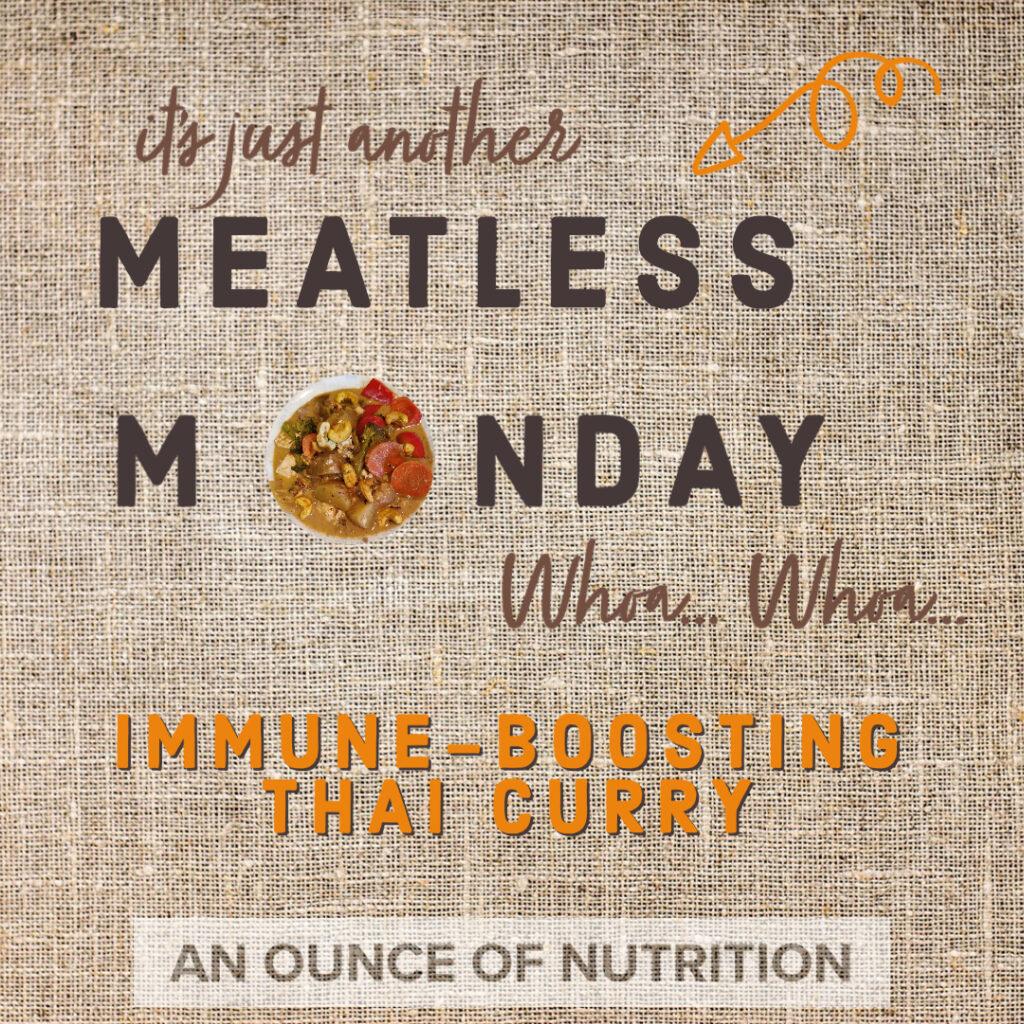 CHART: IMMUNE BOOSTING NUTRIENTS IN THIS RECIPE
| | | | |
| --- | --- | --- | --- |
| Ingredients | Immune boosting components | Benefits | Fun fact |
| Shallots | Pungent sulfur compound known as allium | Helps prevent and treat colds, flus, fevers and coughs | Applying a shallot solution to cold sores can significantly reduce their duration |
| Garlic | Pungent sulfur compound known as allium | Increases your white blood cell count to fight infection | Cut garlic at least 10 minutes before using it to significantly increase its allicin content |
| Lime juice | Vitamin C and antioxidants | Strengthens your immune system and helps your body fight infection | Sip on lime juice throughout the day to obtain the most benefits |
| Galangal | Vitamin C and antioxidants | May reduce disease causing inflammation and protect against infection | Cross between ginger and turmeric. Often used in Ayurvedic medicine |
| Thai dried chili | Contains the compound capsaicin, responsible for its heat | Anti-inflammatory properties – inflammation can affect your body's immune response | Slightly raises our body temperature, which causes our immune system to spring into action |
| Turmeric | Contains curcumin, a bright yellow compound responsible for its color | Reduces inflammation and helps fight off infection | It is a natural replacement for aspirin or ibuprofen |
| Coriander | Contains the antioxidants terpene, quercetin and tocopherols | Improves lung function and reduces respiratory inflammation | It gets it's name from a stink bug because of the unpleasant odor the plant produces |
| Fennel | Vitamin C, antioxidants, antimicrobial components and anti-inflammatory essential oils | Reduces your risk of getting colds, coughs, flus and provides relief from these symptoms | Fennel on its' own has a licorice taste |
| Cumin | Contains Vitamin C, Vitamin A, iron and essential oils | Strengthens your immune system by stimulating white blood cells. May provide respiratory support | Cumin was used in the mummification process in ancient Egypt |
| Cinnamon | Contains the plant compound cinnamaldehyde responsible for its flavor and smell | Inhibits the growth of viral infections | Cinnamon oil can rid your home of ants |
| Cloves | Rich in the phytonutrient beta-carotene and the compound Eugenol | May reduce the risk of inflammation and protect against disease | Clove oil is often used to treat toothaches |
| Onion | Rich in antioxidants and compound allium | Keeps bacteria and viruses from attacking our cells | The ones with the strongest flavor to make us cry are the richest sources of antioxidants |
| Ginger | Contains phenolic and terbene compounds | Keeps viruses from attaching to our cells, which may prevent respiratory infections and help combat chills and fever | Young ginger does not have skin to peel |
| Broccoli | Rich in Vitamin C | Plays a role in preventing and treating illness | 1 cup provides 100% of your daily recommended amount of Vitamin C |
| Red peppers | Exceptionally high in Vitamin C | May reduce the duration of an illness. Immune cells need Vitamin C to perform their tasks | ½ cup of red peppers provides more Vitamin C than an orange |
| Tomatoes | Rich in Vitamin C, Vitamin A and the phytonutrient lycopene | May ease inflammation and boost your immune system | Tomatoes are technically considered a fruit, although we eat them as a vegetable |
| Carrots | Contains anti-oxidant beta-carotene, a precursor to Vitamin A | Helps prevent pathogens from infecting your body | Baby carrots are made from larger thin carrots cut into pieces |
| Potatoes | Rich in the antioxidant Vitamin C | Helps prevent cellular damage to bolster and support your immune system | Potatoes are grown in every single state in the U.S. |
| Coconut milk | Contains a fat called lauric acid | May have antimicrobial (stops the growth of disease-causing microorganisms) and anti-inflammatory properties | Coconut flesh is mixed with hot water to make coconut milk |
| Tofu | Contains protein, antioxidants and zinc | Your immune system relies on protein to produce antibodies and other immune boosting cells to strengthen your immune system. Zinc can lessen the duration of an illness | The process of making tofu is very similar to making cheese |