FLAVOR-FULL SHREDDED TACOS
One of my clients shared a fun, delicious recipe she found on Instagram and I decided to give it a try. It sounded really cool! What is interesting about this recipe is that the tofu is shredded. It makes for an unusual texture.
Nutritionally, it is low in calories and a good source of fiber. It's a good source of protein and an excellent source of Vitamin C, calcium and iron.
The tacos were really good! They have a nice spicy, sweet flavor to them.
Time permitting; I HIGHLY recommend cooking this in stages so that you can let the flavors meld overnight. It really brings it to life!!
SHREDDED TACOS RECIPE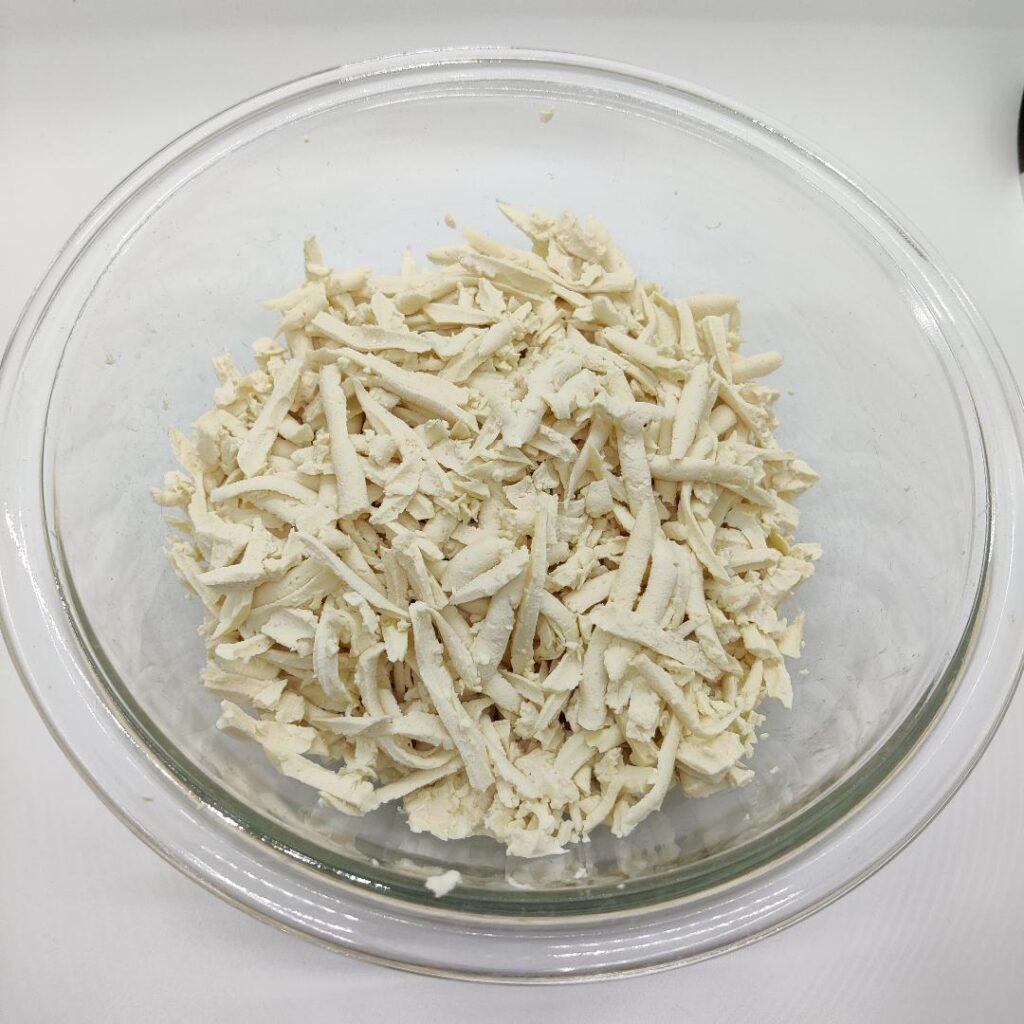 Ingredients:
14-ounces of extra firm tofu
2 1/2 tablespoons coconut amino acids
1 tablespoon extra-virgin olive oil
Spices:

Cumin
Paprika
Chili powder
Granulated garlic
Granulated onion
Sea salt

1/2 yellow onion
3 cloves of garlic, minced
1/2 green bell pepper
1/2 red bell pepper
1/4-1/2 jalapeno pepper (depending on how spicy you like them)
1/4 cup tomato paste
1/3rd cup pure pineapple juice – I used the Lakewood brand
One bunch of cilantro, stems removed
2 cloves garlic
4 tablespoons plain vegan yogurt, I used the Culina brand
4 tablespoons vegan mayo – I used the soy-free veganaise brand
1/2 lemon, squeezed
1 teaspoon pure maple syrup
8 each whole corn tortillas, I used Boulder Chips blue corn tortillas
Directions to make the Tofu:
Pre-heat oven to 350̊ F.
Press or pat-dry the tofu.
Shred into long strips with a grater into a medium size bowl.
Add 2 tablespoons of coconut aminos.
Add 1 tablespoon olive oil.
Add a generous sprinkle of cumin, paprika, chili powder, garlic, onion and a pinch of salt.
Mix thoroughly.
Spread out on a parchment paper covered baking sheet. Bake for 30 minutes, stirring 1/2 way through.
Optional: Put in the refrigerator overnight so flavors can really meld.
Directions to make the vegetable mixture:
Cut onion, bell peppers and jalapeno into long strips.
Add onion, bell peppers, jalapeno and garlic to a lightly oiled large sauté pan.
Turn heat to medium and cook for 10 minutes.
Add a generous sprinkle of cumin, paprika, chili powder, garlic, onion and a pinch of salt.
Add the tomato paste and mix thoroughly.
Cook for 2-3 minutes.
Add the pineapple juice and 1/2 tablespoon of coconut aminos.
Bring to a boil and then turn heat down to low. Stir in the tofu mixture and mix again.
Optional: Put in the refrigerator overnight so flavors can really meld and then reheat the next day.
Directions to make the salsa verde sauce:
Add the cilantro, 2 cloves of garlic, vegan yogurt and vegan mayo, lemon juice, 1 teaspoon cumin, 1 tsp maple syrup and a pinch of salt to a blender.
Blend in a blender until completely mixed.
Bringing it all together:
Heat tortillas in a sauté pan and then place in a plate.
Top each tortilla with a tablespoon or two of tofu mixture.
Sprinkle salsa verde sauce over the top.
Fold taco, serve and enjoy!
Shredded Tofu Tacos
Nutrition Facts
Serving Size: 2 Tacos – Makes 8 tacos total
Amount Per Serving
% Daily Value*
Calories
318.3 kcal
16 %
Total Fat
15.5 g
24 %
Saturated Fat
4.2 g
21 %
Trans Fat
0 g


Cholesterol
0 mg
0 %
Sodium
377.9 mg
16 %
Total Carbohydrate
37.4 g
12 %
Dietary Fiber
4.7 g
19 %
Protein
13.8 g
28 %
| | | | | |
| --- | --- | --- | --- | --- |
| Vitamin A | 8 % | • | Vitamin C | 131 % |
| Calcium | 26 % | • | Iron | 24 % |
* Percent Daily Values are based on a 2,000 calorie diet. Your daily values may be higher or lower depending on your calorie needs.