While it's true that blondies are a paler version of their cocoa-rich brownie counterparts, they certainly don't shy away from satisfying a sweet tooth. These fruit-forward treats will tantalize your taste buds with strawberries-and-cream flavors that are both light and luxurious. The cakey, chewy base is enhanced with subtle notes of cinnamon and sprinkled with walnuts to deliver a delicious crunch with every bite (but feel free to omit the walnuts). Sliced strawberries get extra sweet and jammy in the oven as they bake, ensuring that you'll be licking your fingers to get every last crumb of this irresistible dessert. If you're feeling decadent, serve these vegan blondies with aquafaba whipped cream or vanilla nice cream!
Tip: To make these gluten-free, substitute a 50/50 mixture of certified gluten-free oat flour and sorghum flour, and reduce plant milk to 1 cup.
By Darshana Thacker Wendel, Jun 8, 2023 – Recipe from Forks Over Knives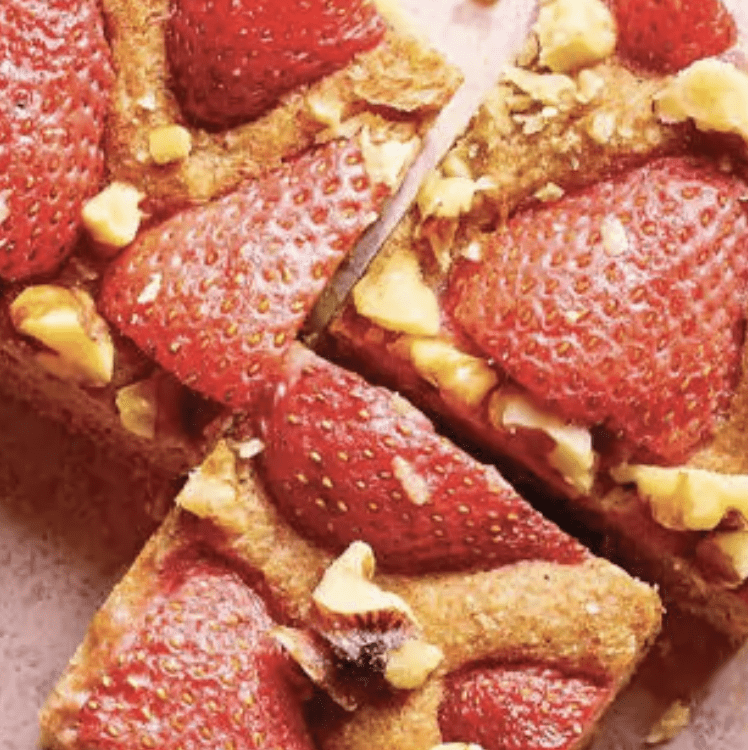 INGREDIENTS
1¼ cups unsweetened, unflavored plant-based milk
1 tablespoon flaxseed meal
1 tablespoon apple cider vinegar
1½ cups whole wheat flour
½ cup pure cane sugar
1½ teaspoons ground cinnamon
1¼ teaspoons regular or sodium-free baking powder
¼ teaspoon sea salt
1½ cups halved fresh strawberries
¼ cup chopped walnuts
INSTRUCTIONS
Preheat oven to 350°F. Line an 8-inch square baking pan with parchment paper, leaving some overhang.
In a small bowl whisk together milk, flaxseed meal, and vinegar. In a medium bowl stir together the next five ingredients (through salt). Pour milk mixture into flour mixture, gently stirring to form a batter. Pour batter into the prepared pan. Use a spatula or the back of a spoon to smooth the top, if necessary.
Gently arrange halved strawberries, cut sides down, over the batter. Sprinkle walnuts between strawberries.
Bake 40 minutes or until a toothpick inserted in center comes out clean. Cool in pan 15 minutes. Use parchment paper to remove blondies from pan; transfer to a cutting board. Cut into 16 squares.