Lentils stand in for the traditional minced beef or lamb in this comforting vegan moussaka that gets its savory flavor profile from Greek cuisine. Trumpet mushrooms add an earthy umami flavor to the hearty filling, which gets layered between rounds of tender eggplant and potatoes. A creamy, cheesy sauce is poured over the top to seep into all the nooks and crannies so every bite is packed full of luscious ingredients and contrasting textures. This warming Mediterranean casserole is the perfect dish to serve on a chilly evening when you're in need of a dish that tastes like TLC.
RECIPE COURTESY OF FORKS OVER KNIVES
More Recipes and Vegan Blog Ideas
For more casserole recipes, check out these tasty ideas:
By Darshana Thacker Wendel, Oct 5, 2022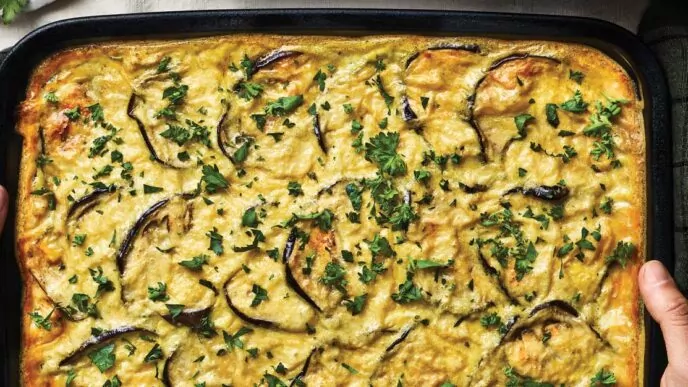 INGREDIENTS
2 lb. eggplant (about 2 medium), sliced into ¼-inch-thick rounds
2 lb. Yukon gold potatoes, sliced into ¼-inch-thick rounds
2 cups chopped onion
8 oz. fresh trumpet mushrooms, chopped
7 cloves garlic, minced
2 teaspoons ground coriander
1 teaspoon ground cumin
¼ teaspoon freshly ground black pepper, plus more to taste
1 15-oz. can brown lentils, rinsed and drained (1½ cups)
1 15-oz. can fire-roasted diced tomatoes, undrained
½ cup tomato paste
2 tablespoons chopped fresh parsley
Sea salt, to taste
2 cups unsweetened, unflavored plant-based milk
½ cup potato flour
¼ cup nutritional yeast
1 tablespoon potato starch
1½ teaspoons white wine vinegar
INSTRUCTIONS
Preheat oven to 425°F. Place eggplant and potato rounds on two large baking sheets; bake 30 minutes to soften. Remove from oven. Reduce oven temperature to 400°F.
For Lentil Sauce, in a large skillet cook onions, mushrooms, 6 cloves garlic, the coriander, cumin, and ¼ teaspoon black pepper over medium 20 minutes, stirring occasionally. (The mushrooms will release enough moisture to prevent vegetables from sticking.) Add lentils, tomatoes, tomato paste, and 1 tablespoon of the parsley to skillet; mix well. Cook 5 to 7 minutes more or until heated through. Season with salt.
For Potato Cheese Sauce, combine plant-based milk, potato flour, nutritional yeast, potato starch, white wine vinegar; and remaining garlic clove in a blender. Cover and blend until thick and smooth. Season to taste with sea salt and freshly ground black pepper.
Spread ⅓ cup of the Lentil Sauce in the bottom of a 13×9-inch baking dish. Arrange potatoes in the dish, evenly covering the bottom. Spread the remaining Lentil Sauce over potatoes. Arrange eggplant over the sauce, then cover eggplant with Potato Cheese Sauce.
Bake 20 to 30 minutes or until the top is lightly browned. Remove from oven and let stand 5 to 10 minutes before serving. Sprinkle with the remaining 1 tablespoon parsley.