PREP-TIME: 20 MINUTES / READY IN: 25 MINUTES
MAKES 12 WRAPS
If you thought lettuce cups weren't filling enough to be served as a main course, think again: These hearty veggie wraps feature a satisfying medley of char-grilled eggplant, bell pepper, and zucchini. While the colorful veggies are enough to make you salivate, the real star of the show is chickpeas, which get a triple appearance in this scrumptious dish. Each lettuce leaf is slathered in creamy hummus before being piled high with toppings, while whole chickpeas are tossed into the veggie mix and aquafaba (chickpea liquid) emulsifies the smoky citrus dressing. Romaine leaves are sturdy enough to act as edible flatware and add a satisfying crunch to each bite. When you want a veg-forward meal to fill a rumbling tummy, fire up the grill and whip up a batch of these wonderful wraps to satisfy your cravings.
Tip: Vegetable mixture can be made ahead and chilled to use in cold wraps.
By Nancy Macklin, RDN, Jul 20, 2023 Recipe from Forks Over Knives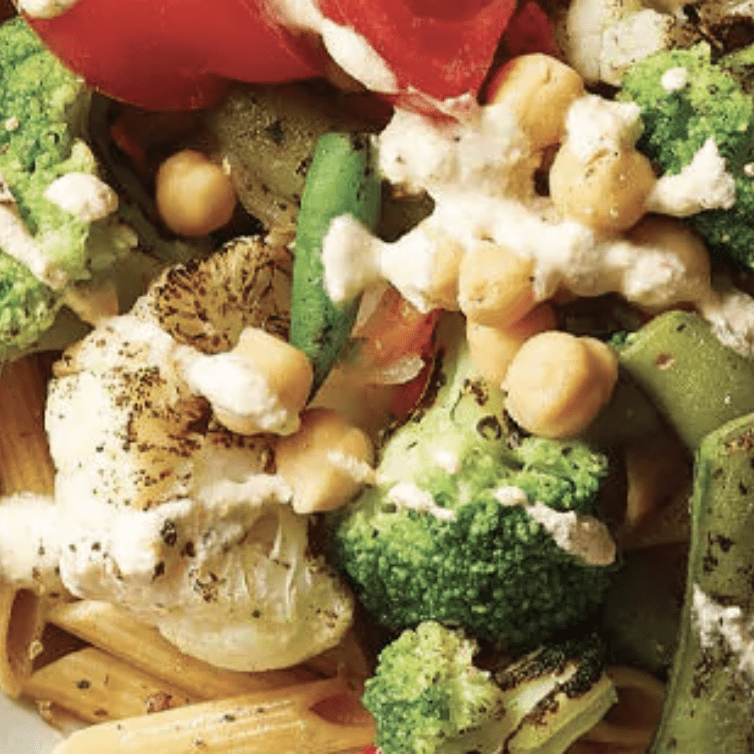 INGREDIENTS
1½ 15-oz. cans no-salt-added chickpeas, drained, and 3 tablespoons liquid (aquafaba) reserved
3 tablespoons lemon juice
4 teaspoons tahini
2 teaspoons ground cumin
1 teaspoon smoked paprika
1 teaspoon garlic powder
1 medium eggplant, cut into ¾-inch slices
1 medium zucchini, quartered lengthwise
2 medium red and/or green bell peppers, quartered lengthwise
1 medium onion, cut into ½-inch slices
Sea salt, to taste
Freshly ground black pepper, to taste
12 romaine lettuce leaves
1 8-oz. container oil-free hummus (1 cup)
¼ cup chopped fresh parsley
2 tablespoons pine nuts, toasted
Lemon wedges
INSTRUCTIONS
Rinse and drain chickpeas, reserving 3 tablespoons aquafaba for dressing. For dressing, in a small bowl stir together aquafaba and the next five ingredients (through garlic powder).
Grill eggplant, zucchini, bell peppers, and onion, covered, over medium-high 5 to 10 minutes or until tender and lightly charred, turning once. Use half of the dressing to periodically brush over vegetables as they cook.
Transfer vegetables to a cutting board. When cool enough to handle, cut vegetables into bite- size pieces. Season with salt and black pepper.
Spread each lettuce leaf with about 1 tablespoon hummus. Top with chickpeas and grilled vegetables. Drizzle with the remaining dressing. Sprinkle with parsley and pine nuts. Roll romaine around filling and serve with lemon wedges.